Sexy Web Design by Elliot Jay Stocks
I wrote this post a while back. The content can still be relevant but the information I've linked to may not be available.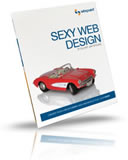 A new book from Sitepoint hit the shelves this week. Sexy Web Design by Elliot Jay Stocks is "an easy-to-follow guide that reveals the secrets of how to build your own breathtaking web interfaces from scratch. You'll be guided through the entire process of creating a gorgeous, usable web site by applying the timeless principles of user-centered design".
The book has a full-color layout and large format (8" x 10") and contains some great images of example websites.
Free: Download sample chapters [opens in new window]