Three Adobe Air applications for simple image editing
I wrote this post a while back. The content can still be relevant but the information I've linked to may not be available.
These days, simple image editing does not need a copy of Photoshop on your PC/Mac because there are more and more free image editing applications that run on the Adobe Air cross-platform runtime. Of course, for heavy duty image work, you may still need Fireworks or Photoshop but for simple tasks a free image editing application may be just what you [or your clients] need. Here are three that I discovered recently.
Xe-IMG Image Editor v3 supports supports .jpg, .png, .gif, and .swf file types, and imports images from URLs. It has various effects such as zoom, image mask, sharpening, enhancing, and embossing. It's quite a nice tool with slider controls for sizing and rotating an image.
ImageSizer can resize, optimize and rename a batch of .jpg images, outputting them as a single compressed zip file. It also supports cropping of images. This could be be a great tool for people who need to send resized or cropped images in a single compressed file by email. I can think of a few of my own clients where this would be useful!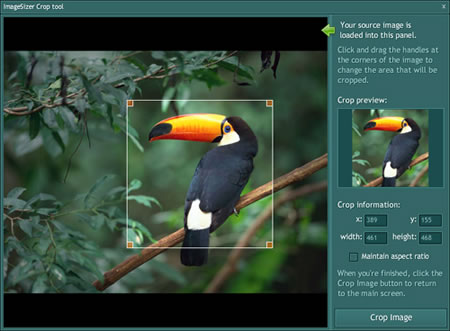 Above: ImageSizer showing crop tool
JustResizeIt also has a drag and drop interface so that resizing images is quick and easy. Image size settings can be saved as 'widgets' for future use. You can subsequently drag and drop resized images into an email, an office document, or a folder. When I first opened the application I was not sure what to do but the Help page explains everything very well.
These applications are designed for specific tasks so don't expect a huge raft of features. However, if you need to do a simple job like resizing an image, one of these might be right for you.
Update: Here's another option for you. An image resizing tool for Windows Vista and XP. It puts an image resizing and copying dialogue into the right click menu.