The CSS Anthology from Sitepoint
I wrote this post a while back. The content can still be relevant but the information I've linked to may not be available.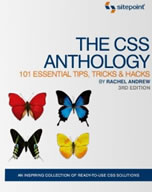 The third edition of The CSS Anthology: 101 Essential Tips, Trick and Hacks by Rachel Andrew is now available from Sitepoint. The book features some great CSS examples that you can use on your website straight away. This is definitely one of the most practical books on CSS that I have read!
Since the previous edition, the book has been updated to reflect the emergence of newer browsers and the use of new CSS techniques. Like all Sitepoint books, you can get free sample chapters before you buy. I have used this myself to see what a particular book is like before deciding to buy. There's also a code archive available to purchasers.
The CSS Anthology: 101 Essential Tips, Trick and Hacks is also available as a PDF for a reduced price. I favour the printed version myself but that's just me. There's just something about having a book open on your desk…