Fundraising for charities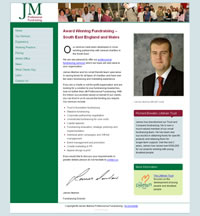 We're pleased to announce the launch of a new website for JM Professional Fundraising. The website uses some of the key styling cues from existing promotional material and extends these in a modern CSS-based layout.
It's great to see a website 'completed' but, in this case, I'll be sad to see it go because the project was a pleasure to work on. Everything came together really well, from the website content to the initial layout draft, through to the final product.
Not every project is like this, of course, but I usually try and think of the reasons why a project works well in any specific instance. In this case, one key reason was that the website content was supplied as a comprehensive package by the client, this gave a full picture of what was to be included, and this made the overall layout easier to create.