Flexible Web Design by Zoe Mickley Gillenwater
I wrote this post a while back. The content can still be relevant but the information I've linked to may not be available.
I know that I usually create fixed width website layouts with CSS and it's relatively recently that I started experimenting a bit with liquid and elastic layouts. There's no 'right' or 'wrong' layout type in my opinion but it's probably fair to say that liquid and elastic layouts definitely come into their own in some scenarios [as do fixed width types].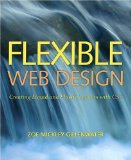 If you want to know more about creating liquid and elastic layouts, you should read Flexible Web Design by Zoe Mickley Gillenwater. I heard about the book on Twitter (via Malarkey) and I bought it almost straight away. I started reading it recently and my first impressions are that this is the best book I have bought in some time.
The book describes flexible layout types in some detail and explains how to achieve these with CSS. It really is a worthwhile read if you are new to flexible layouts…. or even if you are a regular 'flexible web designer'.
This book is also a great read if you have a copy of Bulletproof Web Design by Dan Cederholm on your bookshelf. The two books complement each other nicely.
Update: Interview with Zoe Gillenwater · Download
I've linked to Amazon UK in this post but you can also buy Flexible Web Design from Amazon USA